Through every stage of my life there has been one item that I have never been without….. A BACKPACK!   It just seems like no matter where or what I am doing, there seems to be a need to have a good one.  When it comes to buying a new pack, what are the best backpacking companies to consider?
*This post may have affiliate links and I will be compensated if you make a purchase after clicking on my links. Please see my
disclosure
.
No matter what kind of pack you need, it is always great to have choices. Just because it is just a backpack, doesn't mean you don't need to do some serious shopping to get the right back to fit your needs.
In this post, we are going to show 3 great companies that are dedicated to designing a pack for every occasion.
Why a pack
A backpack is called many things to different people. Some call it a rucksack, knapsack, book bag, or just a pack.   Basically a backpack is a cloth bag that we used to carry stuff in.  It has 2 straps that we hook over our shoulders to carry on our back.
Backpacks are used by students, workers, hikers and anyone travels. The reason they are the preferred choice instead of say a duffle bag is that those bags you need to carry with your hands.  It is really hard to carry very much weight this way.  Using a backpack is strictly easier as it is all about weight distribution.  Carrying something that you can space the weight out evenly over your back is a much easier way to carry a heavier weight.
We all remember when we had to carry those school books around all the time.  Books are darn heavy.  Putting them in your backpack was a far easier way to maneuver that weight around.
Did you know that the word "backpack" goes back to the early 1900s in the United States.  Before, this type of bag was called a moneybag or pack sack.  The word "knapsack" was also a word for a backpack, but this is mainly in Canada.  Still, today us Canadians call a backpack a knapsack.
I find it funny that there are so many names for a pack with straps.  Let's look at a few amazing companies continuing to shine when it comes to backpacks or whatever name you call them.  LOL!
Herschel Supply Co.
The first company I want to share with you, I have a personal connection to.  The company is called "Herschel Supply Co.".  Founded only 11 years ago in 2009 by 2 brothers Jamie and Lyndon Cormack.  With 3 generations of family history from a small town in Herschel, Saskatchewan, Canada, the name was born.  When I say small town, I mean like 30 people small.
I am sure you are still wondering where my personal connection comes in.  Well…. I am also from Saskatchewan. Just a little prairie province girl myself.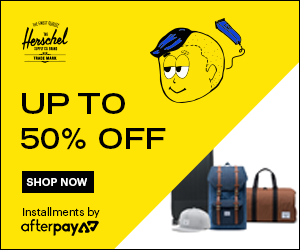 Although the name comes from Saskatchewan, Herschel Supply Co. is a company that is actually based out of Vancouver, BC. Canada. They have one store located in Gastown, Vancouver, BC.  With just one store location, they provide worldwide shopping and shipping from their online website.
The company is committed to creating products that are timeless and with designs that are full of amazing detail.   A real mix of nostalgia and yet very modern looking.  Every detail of their bags is created to provide all the space needed for everyday life.
They have bags for men, women and kids.  Ranging from larger bags, all the way to a standard smaller bad for the lighter loads.

CLASSIC BACKPACK XL – $32.99 USD
If you simply need a pack for everyday used to go to school, work or otherwise, Herschel makes an excellent pack called the "Classic Backpack XL".
This pack has:

extra storage,
"15 inch" laptop sleeve
Front pocket with key clip
Dual water bottle pockets
Sturdy fabric

Signature striped fabric liner
Top grab handle
LITTLE AMERICA – $109.99 USD
My favourite pack, of which I own, is the "Little America" pack.   This pack is great for short trips that require more room for our essentials.  Herschel likes to call this their mountaineer pack, but I use it often for trips.   It can be either as an add-on to full luggage as your carry-on, or as your entire bag for a weekend trip.  You can pack this bag full.
Equipped with:

"15 inch" laptop sleeve
Adjustable drawstring closer top
Magnetic strap closure
Padded shoulder straps
40-50 different color choices

Front pocket with enclosed zipper
Top grab handle
The magnetic strap closures truly are the coolest idea in a pack.  It makes it so simple to close simply by touching the strap and pack together, the magnet grabs.  One of my absolute favourite parts to this pack.
The fabulous thing about Herschel Supply Co. is that they literally make hundreds of packs in many design styles. They have small, medium and large sizes.  These are just 2 of my favourite designs, but you truly will find whatever pack size and style you are looking for by visiting their website.
Mountain HardWear
My next company is Mountain HardWear.  Founded in 1993 by outdoor enthusiasts that saw quality and the technical aspects of a good pack, go by the way side.  Dedicated to provide outdoor athletes with everything they need to enjoy the great outdoors.  They use the term athlete to describe people that seek out that outdoor adventure from rock climbing, to hiking and camping.  They provide gear for all of these great outdoor activities.
Their entire line of products, are built with the best quality, made from cutting edge technology and amazing designs. So whether you are heading to the lake or off on a much bigger adventure, Mountain HardWear gear has you covered.  They even offer a traditional "day pack" that can be used for everyday life.

Camp 4™ 21 Backpack – $130.00 CDN

The name of the pack as you can see has the size of the pack included in it.  This makes it easier to understand what size of pack you are looking for.  Touted as an everyday pack, this pack is built as a technology tool for hauling pretty much anything
Equipped with:
"15 inch" laptop sleeve
Full size zipper compartment
Padded shoulder straps
Flat base bottom allows for the pack to have a stand-up design
Special carbon coating nylon for durability
Also available in packs sizes of 28 and 35
UL™ 20 Backpack- $90.00 CDN

This cool 20 inch pack is one of the more unique looking packs I have seen.  I have to say though, I really like it.  It has a very rounded look to it, that allows for that lightweight look and feel.  Unlike the 21-inch pack above, this is designed to protect your gear from all the weather elements.
Equipped with:
Recycled 200D rip stop nylon

Center strap that allows for secure closure
Adjustable side bottle pockets
Breathable mesh padded shoulder straps
Zippered front pocket
Front and rear grab handles
Quickdraw opening for the main compartment
These 2 packs are both durable and functional for almost anything you need.  Mountain Hardwear offers other lines of packs beside day packs, like Climbing and Mountaineering designs.  They are all designed for durability and longevity no matter your need.
Jansport
The longest running backpack companies of the 3, Jansport has been in business for over 50 years.  Founded in 1967 by 3 friends: Skip the outdoors man, Murray the engineer and Jan the seamstress.  All who were living in Washington.  Their beginning started when Murray won a design award for creating the first adjustable aluminum backpack frame.
After winning the award Murray decided to get adventurous and ask his girlfriend Jan to come up with a backpack for the frame.  He said if the design was successful, he would name the company after her.  Hence JANsport was born. LOL!
Such a fun beginning to this long-standing company.  Dedicated to living life in adventure and on the go.  All their backpacks are durable, versatile and very functional.

Huntington Backpack – $48.74 CDN
This 21 inch backpack is great for absolutely anything you need to haul around with you.  Touted as an "Instant Classic" in backpacks.
Equipped with :
Synthetic leather bottom
2 main compartments
"15" inch laptop sleeve
S-curve straps for ergonomics
Fully padded back panel
Side water bottle pocket
Zippered front mesh pocket
Top grab handle

Lifetime warranty
Comes in 4 different colors
Right Pack Backpack – $52.59 CDN
This pack really is Jansport classic backpack for all occasions.  Smaller than some other packs I have shared, but perfect for fitting together with your sense of style and fashion.  Yet still offering a great pack that can help you haul all your needed gear with you on your back.
Equipped with :
Premium Cordura fabric bottom
One large compartment
"15 inch" laptop sleeve

Padded straight cut straps
Front utility pocket with organizer
Zippered front pocket
Top grab handle
Comes in 12 different colors
Lifetime warranty
Like the other 2 companies Jansport has an extensive line of backpacks to choose from.  The two I have shared with you here, are 2 of their most popular backs.  They are a company that prides themselves on providing a solution to taking your gear with you no matter how much you have or where you need to go.
Backpack Roundup
Whether we are going to school, work or on a trip, we always need to take our stuff with us.  The easiest and most comfortable way to do that is by wearing a backpack.  Next time you are outside wandering around just check out how many people are carrying a backpack.  Just look at kids when we send them off to school, almost every single kid has a backpack.
Their are many companies out there that make backpacks, but not all packs are created equal.  These 3 in my opinion, are some top 3 best backpack companies in the US and Canada.
Backpacks are not something that you replace every year, so you want them to last.  The only way to ensure that happens, is by buying a quality pack from a great company that knows what they are doing.
Whether you need a pack for camping that has to stand up to the elements, or one that you take with you on a plane, it needs to be durable.  Backpacks really do taking a beating, so remember that the next time your in the market for a new pack.
This is the latest backpack that I bought a few years ago. I opted for the Herschel Suppy Co. Little America backpack. The different with my pack, is I bought it around the Winter Olympics and was lucky enough to by the fast selling special edition CANADA pack.  It really is the coolest pack around.
I hope you have enjoyed reading my post.  I would love to hear your thoughts, so please put them below.