Shoes we wear are one of the important types of PPE (Personal Protection Equipment) for protecting our body.  What? Protect our body……..FROM WHAT!  Here is my post about the best keen shoes to buy and why they are the best.
Just think about feet as our most critical part of our body.  The feet are what holds us up.   It's what ultimately takes the brunt of everything that we do with our body.  Think about how much we expect our feet to handle.  Thin, fat, small or tall, we all ask an awful lot out of our feet.
*This post may have affiliate links and I will be compensated if you make a purchase after clicking on my links. Please see my
disclosure
.
In order to take care of our feet properly, we need to provide them with good protection.  Stay seated and keep reading, because I am just getting started on shoes.   I want to share with you, one of my absolute favourite brands of shoes Keen.
Keen
Keen was started by a guy named Martin Keen who lived in Jamestown, Rhode Island.  Growing up, Martin's father was a furniture builder and along with his grandfather also made shoes.  Martin grew up with a love of outdoors water sports and of course sailing.  He thought about following in their footsteps. 
After high school Martin decided to go to industrial design school.  Once he completed his schooling, he realized that there was a need for sandals for sailing that had a way of protecting the toes.  Anyone that has every stepped foot on a sail boat, knows that the idea of wearing sandals on deck, can be dangerous.
In 1999, he decided to design his 1st pair of sandals called the Newport Sandal. Equipped with the iconic rubber toe bumper and more like a hybrid of a sandal and shoe.  At first pitching his shoes in 1999 and 2000, to the company Nautica who he was employed by at the time, took a pass on his sandal.  People just weren't ready for the newly ODD hybrid sandal.
He continued to shop his unique shoe around the world, and while in China was introduced to a man called Rory Feurst.  Rory who was a fabulous shoe designer in the outdoor shoe market industry thought the Newport Sandal had a huge potential and decided to join in.
By 2003 the shoe was debuted at the Outdoor Retailer Winter Market.  This event is the largest outdoor Expo & Conference in Denver, Colorado.  New outdoor products are put on display and introduced to the outdoor trade show world.  The Keen Newport Sandal did so well at that trade show they walked away with the title "Launch of the Year".
Since that day, Keen has become one of the largest growing outdoor shoe companies on the market.  Along the way they have added different styles and design lines.  They now create many lines of shoes like, hikers, work boots, shoes and of course the original sandal.
In 2012 they purchased a large HQ bulding in Portland Oregon. and current sales top $240 million.
Shoes/Hikers
Now that we know how Keen came to be such a huge success in the outdoor shoe market.  But what makes people coming back.
Well first off if you have any history of foot issues, then you will understand my dread of buying shoes.  Anyone that knows what I am talking about also knows that with bad feet, cheaping out on shoes, is not really an option.   If you pay more upfront for a good pair of shoes, you really do get more support and comfort.  That is just the facts.
My poor feet have endured a tough life. From the very beginning, I have been very hard on my feet. I was big into skating for figure skating, then ringette. My feet were always in skates.  In my late late teens and early adulthood, I had my feet in broom ball shoes while I was playing goal.  Anyone that has played broom ball knows that a frozen broom ball off the toe is damn painful.  Then an unfortunate work accident year later caused me a serious foot injury.  So as you can see, my feet have paid the tough price.
After my work accident, I was told I had to wear orthotics in my shoes and because of the nerve issues in my toes, I had to have a roomy shoe.
With the type of orthotics I use, you have to take the entire shoe insole out of the shoe and replace it with the support.  In a regular runner style of shoe, the back of the shoe is not very high.  They are more of a low cute style.
Once you take out the insole of a shoe and insert the orthotic, it tends to you raise your heel out of the shoe.  If you are wearing a low cut shoe, your heel will constantly pop out of the shoe. This is not great for many reasons.
The alternative, then is wear a hiker shoe. Not a boot but a hybrid between the two. This is the perfect resolution to the entire orthotic issue.   A hybrid hiker has a design with a much higher back so the orthotic literally fits like a glove and makes the entire experience completely comfortable.
Enter my obsession with the Keen hikers.  Of course like everyone else in the world, I was all too familiar with the Keen Sandal.  They are the best, so cool, comfortable and very airy. Love them.
I was in the market for shoes and through my looking, I found that Keen was also making a hiker/shoe hybrid.   Right away I was interested, as I love the big rubber toe front.  Just a genius design that looks so unique.  The toe space gives your toes plenty of room to breathe a little which was also perfect for me in a hiker.
Well I was instantly in love.   From the first moment I put on the Keen's, the roomy fit, the high back and amazing sole of the shoe I was sold.  My absolute favourite hiker shoe is the: MEN'S TARGHEE II WATERPROOF MID.  What makes this such a great choice?
Waterproof nubuck upper leather
Keeps your feet dry
Let's your feet breathe
Outsole great for rugged terrain
Mid-cut adds ankle support
Has Keen.Dry (waterproof and breathable membrane)
Inside arch support engineered to help to cradle the natural contour of your foot
MENS: They come in 3 different colors: Black Olive/Yellow, Shitake/Brindle, and Raven/Tortoise Shell.
The sizes range from 7-17.
LADIES: This shoe is also made in Ladies in 4 different colors: Brindle/Quiet Harbour, Alcatraz/Blue Turquoise, Weisse/Bosenberry, Magnet/Atlantic Blue.
In sizes ranging from size 5-11.
Both men and ladies range in price somewhere between $180-$200
These shoes are perfect for almost any terrain, weather or activity. I literally live in these shoes.
Here is a review, from a recent buyer.
Work boots
It started with the sandal then to the hiker/shoe and now……they make work boots.  OK so they have been making them for a few years already.  I found them about 3 years ago.  I am currently on my 3rd pair of their work boots.
For my bad foot reasons and the type of work that I do, I buy a new pair of work boots every single year.  My wonderful foot surgeon who I love Dr. Huw Rees always told me that a person should only wear a pair of boots for 1 year max.  Now by that he means if you wear them every day.  No matter what type of shoes you wear, like everything else, the support breaks down and wear and tear can compromise the support.
What makes their work boots so great……SO MANY THINGS!!
Currently I am on my second pair of this model of Keen Work Boots: MEN'S CSA HAMILTON MID (STEEL TOE) OR (CARBON FIBER TOE)
These boots are the best. Here are some amazing things these boots have that make them so great.
Weatherproof protection
Punture-resistant midsole
Reflective safety features
KEEN.Dry (Waterproof, breathable membrane)
Oil and slip resistant outsoles
Locking metal lace hooks
Non-metallic woven midsole
Inside arch support engineered to help to cradle the natural contour of your foot
Carbon-Fibre toe or Steel toe (depending on your choice)
Medium Duty Boot
MENS: These work boots come in 2 colors: Black/Yellow and Bison/Jester Red.  The sizes range from 7-15.
Price varies but are somewhere from $195-$260.
This boot is not available in Ladies, however they do offer : WOMEN'S CSA OSHAWA II WATERPROOF BOOT (CARBON-FIBER TOE) and they come in only one color and are approximately $200.
Here are a recent review to give you an idea what other people think about them.
Many things make Keen boots a great boot for outdoor rugged work.  They are extremely solid, sturdy, durable, and of course comfortable. With my current job, I work long days, so I may be in those boots for 11-12 hours a day and my feet are not sore at the end of the day.  I put these boots to the test in my work place and they have totally been up to the challenge.
Giving back
Like many companies we make purchases from, knowing that the company chooses to help and give back, is important.  Keen has from the very beginning have done that.
Keen's brand value says this:
"We are committed to putting our values in motion.  From the products we make, to the actions we take, we inspire ourselves and others to live and work monumental every day."
As an example of Keen's committment to giving back, all we have to look at how just one year after they made it big they contributed to help when the Tsunami hit.  They dedicated their entire $1M marketing budget from marketing to relief to help wherever they could.  They rolled up their sleeves and jumped in.
When a company like Keen who was a relatively new brand at the time gives that kind of support in a crisis, it really solidified their brand.
Since then there have been many more projects that they have chosen to be a part of. "Putting Good to Work" which is through Project Build.  This helps get Veterans back on their feet and providing Keen Utility boots to those in need.
Keen round-up
Keen to date, is a huge player in the outdoor shoe market. Whether you are looking for the classic Newport Sandal, hikers for everyday use, or work boots, Keen in my opinion offers the best shoes.
The odd fashion design of their shoes, is still to this day one of the fashion debates that keep coming up.  Their shoe designs are unique and interesting compared to their direct rivals Merrell.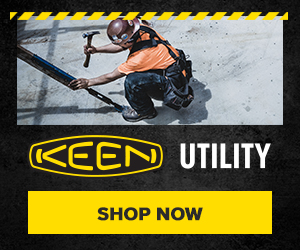 I think this is why their shoes are so popular.  People that like to stand out a bit, and different looking shoes is a way to do that. Let's also not forget, how comfortable and amazing all their different shoes are.  It doesn't matter whether you prefer hikers, sandals, work boots or just shoes to do some walking.  Keen has something for you.
I hope you enjoyed my review of the Best Keen Shoes.  I would love to hear what your thoughts are, so please comment below.