I have been so excited about writing this post.  Why you ask?  Well to start with, I absolutely love Life is Good clothing. If you opened up my closet right now, you would find a ton of their stuff there.  I mean a ton!
I have long sleeved shirts, short sleeved shirts, pj pants, shorts and more.  Literally I can't think of one other brand of clothing that I own more of.  There truly is not very many companies' that I can talk about in a more positive light than this one.
*This post may have affiliate links and I will be compensated if you make a purchase after clicking on my links. Please see my
disclosure
.
I seriously am a walking Ambassador for them.  Sometimes I even feel like their designs were made just for me.  they said hey Coralie, this one is for you! Having a connection to a company and having loyalty to them is not something that happens every day.  It takes years and years of consistency and passion.  For me that is what truly makes a company great.
Their start
When a company is successful and does well, we often say they have a successful brand.  A brand is a practice in marketing where a company's creates a name, product, logo, design or symbol that uniquely stands out as belonging to that company.
A strong brand is what helps identify them from their competitors.  This branding is what leaves an impression on a customer and effectively keeps them coming back.
This Life is Good brand is one of those companies' that we would say has secured good "Brand Awareness".  They aren't known for just one product, they are recognized for their name which is their BRAND!
When a company achieves such a recognizable brand, I am always that person that wants to know where that story started from.  It just fascinates me that a person just like me maybe even from sitting on their couch thought of, implemented and reached ultimate success with just one idea.  That idea was the "DREAM".  Just like it is for every entrepreneur out there.
In 1989 two brothers, Bert and John Jacobs from Boston, MA designed their very first Life is Good tee shirt (T-shirt). They filled duffel bags full of shirts and started selling them out of their less than flashy minivan.  For almost 5 years they sold shirts in the Boston area at card tables, fairs and by cruising the East Coast selling shirts door-to-door in college dorms.
They had a passion for their shirts, but honestly it wasn't making them much money.  Trying desperately to hang on to their dream, they reached out to their friends.  With apartment walls full of designs, they had their friends come over to have a look and give feedback.  One particular design on the wall of a stick figurehead character wearing a beret with the phrase "Life is Good" stood out right away.  They chose that design and character and it was named "Jake".
With 48 Jake shirts in hand, on a September day in 1994 they hit a street fair in Cambridge, MA.  Before, the day was 1/2 over all the shirts were sold.  They finally had a hit. Jake was a star and Life is Good was off and running. .
This brand
As the success of "Jake" grew, so did the line of clothing.  They expanded the designs available on shirts and quickly started selling them along with hats in local retailers all across America.
This product lines kept expanding to now where they offer complete lines of men, ladies, and children's clothing. Even offering a full accessory line to the mix. Giving them over 900 items in their clothing repertoire
By 2007, the company had $100 million dollars worth of sales.  Along with 4500 retail stores across just the US alone and a huge online store, they continued to grow.
This Life is Good brand is literally one of the most recognizable clothing brands in the world.   Everyone knows who they are.   Their cute, funny, simple designs just make people feel better.   Life is Good has one of the most positive brands that I have seen in a very long time.
Their brand continues to be creative, heart filled, funny and even having the ability to promote positivity into the world.
Quality
This quality that goes into Life is good clothes is what in my mind sets their clothes apart.  This flagship shirt in my mind is the "Crusher Tee".  This shirt is a 100% cotton that goes through a crushing process, that makes the shirt soft, smooth and literally like making you feel like you are wearing your pj's.   A completely relaxed fit, that barely touches your skin.
This crushing process has taken them over 20 years to perfect.   And let me tell you they have perfected it.   This second that you put on these crushed tees, you are in heaven and don't want to take it off.   You can get the crusher tee in long or short sleeve designs.
Shop Life is Good's new collection of Jake graphics featured on their classic Crusher tee!
Now they don't just make the crusher tees, they also have a complete line of "Cool Tees".   This 60% cotton and 40% polyester blend is washed for extra softness.  This lighter blend is perfect for those cooler days.  With a signature classic fit, this shirt is light as feather on your body.
This wonderful thing about the quality of their products, is they really do stand the test of time.  I am not kidding when I say that I have worn a shirt of theirs for more than 10 years.   Yes of course it has a few nicks and some serious wear, but it is still standing.   How many pieces of clothing that gets regular wear lasts that long?  Not many.
Every line or category of products they sell, stand up to this same quality.   They never cut corners and they always produce nothing but the best.
Adorable
Time and clothing, generally isn't a good thing.  Usually trends change and people get tired of a certain look or style. People like to stick with the trends and be relevant with what everyone else is wearing.   This is the reason that the shopping industry will always exist.   It is peoples need to keep up with the Joneses.
This wonderful thing about Life is Good, is the designs have really kept people engaged and waiting for the next line of adorable clothes to come out.  They never seem to get out-of-date, because they keep adapting their designs.
From lines of :
Camping
Hiking
Mother's Day
Animals, pets, and insects
Fishing
Crafting
Humour
Holidays
This is just a snippet of a few of the categories that they offer.  They continue to expand with new adorable designs and slogans regularly.  By continually offering new choices and fun new designs, they keep people coming back.
A perfect example of their ability to adapt, is the new Pandemic or Stay at home line of clothes.  Yes you heard me right!  A new line of inspirational and feel good Pandemic supportive clothing.  From the shirt that says "Superhero's wear scrubs", to the humorous "Stay at Home" designs like "Work from Home, Pants optional".  They continue to prove that they are committed to staying relevant with what is going on in the world.
This little things
Whether it is to feel patriotic, feel supportive or just need a laugh, Life is Good Clothing continues to shine ahead the clothing company masses.
Their commitment to making people laugh, allowing us to show support in tough situations, or giving us a design that totally describes who you are.  They have it all.
I call it the little things.  A company that stays in tune with the world, the consumer and staying true to their motto that "Life is Good".  Their goal of creating optimism within their brand and by learning from their customers have what they call "Life is Good Superpowers".  Optimism allows us to face obstacles, continually move forward and most of all enjoy the ride of life.
This is so true with their Stay at Home line of clothes.  This just another way that shows that by turning something that is hard or challenging in the world into a fun tee shirt slogan, it helps ease our feelings and makes us feel better.
It is no surprise than that Life is Good gives back to the world. 10% of all net profits goes to Help Kids in need.  Along with the creation and contribution of 65,000 optimists called Life is Good Playmakers, they continue to change kids lives for the better.  By supporting childcare professionals and other organizations to help do what it takes to create a proper safe environment for kids to learn, grown and heal from trauma.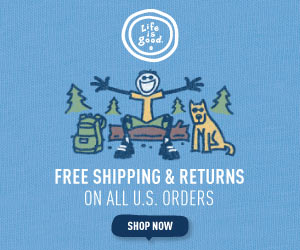 A company that gives back and cares about the world we live in is always a safe bet for creating a building a true brand.  There are very few casual clothing company that make you smile, laugh and feel proud to wear their clothes. Life is Good is that company.  If you have never owned any of their products, now is your time to see for yourself. Who knows, you may end up a customer like me, who can't stop talking about how much I love their stuff.
I am such a big fan of their brand, that while living in Ontario, I was able to go to the very first Canadian store to sell Life is Good. It is called Jake-by-the-Lake and is located in Westport, ON.  Open since 2008, they embrace everything that is Life is Good.  Their motto of "This Journey is the Destination" keeps them right in line with the companies' motto to promote optimism and joy to their customers.
This store is in a picturesque part of Ontario and the second you walk in the door you feel right at home.
Along with this Canadian flagship store and all the stores around the world they continue to spread the love of the Life is Good brand.