When it comes to people and Crocs, they have a love hate relationship with them.   Some people believe they are awesome because they are comfortable and easy to wear, but many others feel they are super uncool.    So if that's the consensus, than why are Crocs popular?
*This post may have affiliate links and I will be compensated if you make a purchase after clicking on my links. Please see my
disclosure
.
Fashion is always been something that is in the "Eye of the Beholder", if you know what I mean.   People have their own idea of what is fashionable for them, but it is of course completely subjective for everyone.
I have had a love of Crocs from the very beginning.   I knew that they were not considered to be sending the best fashion message when I first started wearing them, but I ultimately never really cared about that.
Let's find out more about Crocs and see what really makes them popular.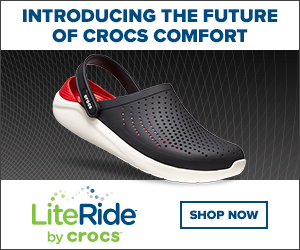 Where do they come from?
Crocs first came around in 2002.   They are founded by Lyndon "Duke" Hanson, and George Boedecker Jr. in Niwot, Colorado.   The idea behind the company was to make a "foam clog" originally for boating.
The Croc called "Beach" which was the first design of the foam clog, was rolled out at a Florida boating show in 2002. All 200 shoes sold out at that event.   At that point, they knew they were on to something.    There success continued to just explode from that point on.
Jump ahead to 18 years later, and to date they have sold over 300 million pairs of Crocs.
Isn't that unbelievable!
2 years later, they purchased the company Foam Creations who actually created the shoe and by 2007, they had applied to trademark the shoe and called them "Crocs".
Crocs motto has always been:
"It's The Shoes That Make Us Different, It's The People That Make Us Special"
Their goal has been to make the most comfortable, affordable, unique, open-minded designed shoes on the market. By not taking themselves to seriously they keep things light, simple and always are using their imagination to come up with exciting new designs.
They may have started out with just one shoe, but they have really made their brand "CROCS" a brand that everyone knows.   Even if you aren't a fan of their shoes, you have definitely heard of them.   The commitment to keeping their shoes budget friendly and so adaptable to everyday uses, they continue to be a product that is so popular that they even have a list of celebrity endorsements behind them.
So I guess that answers the question "Are they cool"?   All it takes is one celebrity that has a huge following behind them, and BOOM they are fashion accepted!
With annual sales of 1 Billion dollar, Crocs is 1 of the 10 largest non-athletic footwear brand in the world. WOW!!
What do people love about them?
There are many reasons that people have always loved their Crocs.   Some of the most common reasons that people make them a must have is they are:
Comfortable – They are so darn comfortable. Once you get them on, you don't want to take them off.
Budget friendly – You won't break the bank to buy a pair.   They are even so inexpensive that you can easily buy more than one.   One for inside and one for outside.   Whatever your needs are!
Or maybe you just want one in every color.
Easy to clean – Whether you wear them inside the house or out, they are super easy to clean.   Just a little soap and water will do the trick.
Design options – They have an unbelievable selection of designs and colors to choose from.  Plenty of options!
Flexible – One of the most popular reasons that people love Crocs, is the flexibility of where you can wear them. They aren't just worn for one purpose or another.  You can literally wear them anywhere.

Quick to put on – The ability to just slip on most Crocs, makes them fast and easy to put on.  Perfect if you are in a hurry!
Personalize – You can personalize your Crocs with Jibbitz (charms).   By selecting different available charms you can truly make your shoes your own.   This unique fashion accessory is a great way to express your own unique style with every shoe.   The right shoe doesn't even need to match the left one.   How cool is that!

As you can see there are a ton of reasons why people love their Crocs so much.   The ability to wear them anywhere, at anytime, with socks or without, makes them the most universal shoe on the market.  It really isn't hard to understand why they are such a popular and how they have been a loved shoe for almost 20 years.

Who and where can you wear them?
I have been buying Crocs from day one.   I usually have 2 pairs going at the same time.   I like to have one pair I wear just inside the house that stay clean and fresh, while the other pair is for being in the yard.
Whether I am watering the lawn, weeding, or just wandering out for a quick task, my outside Crocs make it easy to put shoes on in a hurry.  There is also the fact that my outside ones, never come in the house and track dirt or mud in, I just leave them outside on the deck.   When I come back inside, I quickly slip on my inside ones.
OK, so now we know how I like to wear my Crocs, but what about everyone else.   Who is wearing them and where?
Well the best thing I have seen is when I went to have surgery at the hospital, and while I am waiting to go in, I see all the nurses and doctor roaming about IN THEIR CROCS!
YUP!   They were wearing Crocs.  It really makes sense though, they are easy to clean, and comfortable.   This makes them the perfect shoe choice for them to wear.
Who else is wearing them besides hospital staff?   To answer that question, I don't really have to think that hard about it, because pretty much everyone is wearing them:
Sports teams and athletes
Chefs and restaurant staff
Gardners
Celebrities
Teenagers
So many people are wearing Crocs, that my list could be never ending.   The truth is kids, women and men of all ages and professions find a way to wear their Crocs with pride.  The sky is the limit when it comes to Croc shoes!
Styles and colors
The original or "Classic" Croc, is the famous shoe that has a covered toe, with holes on the top and vents on the edge of the shoe.   Everyone has had a pair of these at some point in their life.   Well Crocs doesn't stop there they make them in :
Classic
Sandals

Flip-flops

Boots

Sneakers

Loafers

Platforms

Flats

No matter what style you are looking for, they have you covered!
Once you pick your style, then you have to decide on a color.   They have so many colors and color designs to choose from, your head will spin.   There really isn't any color that they haven't tried.   You can even get a bit more adventerous and get ones with a picture on them rather than a solid color. Some have a rubber edging that makes them look like a running shoe.
Whatever style of shoe you have in mind, browse through their selection and start shopping now!
Crocs
Like many companies Crocs has had some ups and down, but prior to the start of the Pandemic, they were heading on an up swing.   That trend has continued through so far.
Why are Crocs popular really has such an easy answer……..because people love them.   When a product sells itself and even though some people will always say, well those shoes aren't fashionable, they are geeky.
Here is how GQ staff style writer Jake Woolf explains it,
"Everything ugly is cool these days, from oversize jeans to gaudy logos, and Crocs are maybe the purest form of this new wave".
It doesn't get explained better than that.   If you love something like I love wearing my Crocs, than does it really matter what anyone else says.   I believe in COMFORT as my 100% motto in life, so Crocs easily fits into that category!
I hope you enjoyed reading my review of Crocs. If you have an opinion or comments that you would like to share, I would love to hear from you.   Drop me a comment below.
IT"S NOT TOO LATE TO GET YOUR CROCS !